Are you looking for a comfortable and stylish hoodie to add to your wardrobe? Look no further than the Gildan Heavy Blend Hoodie! This hoodie has become a popular choice among fashion enthusiasts and comfort seekers alike. It's made from high-quality materials that are both soft and durable, making it ideal for everyday wear. The Gildan Heavy Blend Hoodie is available in a wide variety of colors, allowing you to choose one that suits your personal style.
Whether you're hanging out at home, running errands, or going out with friends, this hoodie is sure to keep you warm and stylish all day long. So why wait? Add the Gildan Heavy Blend Hoodie to your collection today and experience the ultimate in comfort and style!
Gildan Heavy Blend Hoodie Size Chart
| Size | Length | Width |
| --- | --- | --- |
| Small | 27″ | 20″ |
| Medium | 28″ | 22″ |
| Large | 29″ | 24″ |
| X-Large | 30″ | 26″ |
| 2X-Large | 31″ | 28″ |
| 3X-Large | 32″ | 30″ |
| 4X-Large | 33″ | 32″ |
| 5X-Large | 34″ | 34″ |
Read More: Gildan 18500 Hoodie Size Chart
Sizing Chart
Looking for the perfect fit when it comes to a Gildan Heavy Blend Hoodie? Look no further than the Gildan Heavy Blend Hoodie Size Chart! This handy chart will help you find the perfect size for your body type. With multiple measurements like chest width and body length, you can compare your own measurements to find the ideal size. Whether you're looking for a loose fit or a more snug one, the size chart is sure to help you make the right decision.
Plus, with a variety of sizes available, there's a Gildan Heavy Blend Hoodie for everyone. Don't settle for a hoodie that doesn't fit well – use the size chart to find the perfect one for you. With its soft fabric and comfortable design, the Gildan Heavy Blend Hoodie is the perfect addition to any wardrobe.
Shop today and find your perfect size!
How to Measure
When it comes to buying clothes online, getting the right size can be a tricky task. That's why we've created a comprehensive sizing chart to help you get the perfect fit every time. Our chart includes measurements for the chest, waist, hips, and inseam, as well as instructions on how to properly measure yourself to ensure accuracy.
To use the chart, simply compare your own measurements to those listed on the chart and select the size that matches. Keep in mind that different brands may have different sizing standards, so it's always a good idea to double-check the specific brand's size chart before making a purchase. With our sizing chart as your guide, you can say goodbye to the frustration of ill-fitting clothes and confidently shop for your new favorite pieces.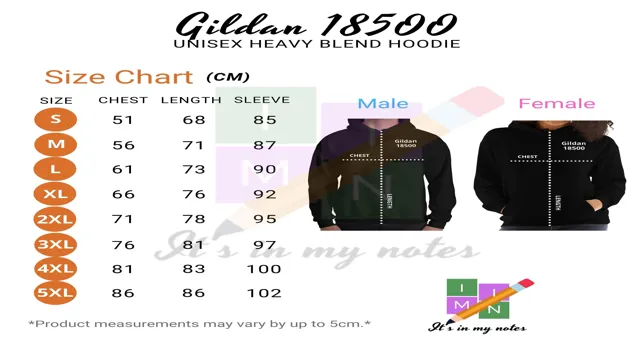 Men's Size Chart
If you're wondering about the right size to choose for your menswear clothing purchases, you're not alone. The importance of proper sizing cannot be underestimated when it comes to ensuring comfort, style, and even health. To help you with this decision-making process, it's crucial to refer to size charts that are specifically tailored to men's clothing.
These charts typically cover various clothing items, including shirts, pants, jackets, and even suits. The measurements used in sizing charts might vary by brand, so it's essential to take accurate measurements of your body to find the perfect fit. This process involves measuring different body parts such as your chest, waist, hips, inseam, and others to ensure that the size you choose matches your body type.
Keep in mind that sizing chart recommendations are not universal and can range from tight-fitting options to looser, more relaxed fits. Always consult a sizing chart before making any purchases to ensure that you're getting the best fit for you.
Women's Size Chart
If you're a woman looking to purchase clothes online, then knowing your size is extremely important. However, sizing charts can be confusing and often vary between brands. That's why we've put together a comprehensive women's size chart to help you find your perfect fit.
Our size chart includes detailed measurements for the bust, waist, hips, and inseam, as well as recommended sizes for different body types. We also provide tips on how to measure yourself accurately so that you can be sure you're getting the right size every time. Remember that it's not always about the number on the tag, but how the clothes fit and feel on your body.
Don't get discouraged if you find that you're a different size in different brands – it's all about finding what works best for you. At the end of the day, the most important thing is to feel comfortable and confident in what you're wearing. So take a look at our women's size chart, find your perfect fit, and rock that outfit with confidence!
Features
If you're looking to add a Gildan Heavy Blend Hoodie to your wardrobe, it's important to consult the brand's size chart to ensure the best fit. The Gildan Heavy Blend Hoodie is made from a blend of cotton and polyester, making it a warm and comfortable option for casual wear. The size chart provides measurements for chest, body length, and sleeve length, which are all important factors in finding the right size.
Keep in mind that the hoodie is designed for a relaxed fit, so you may want to consider sizing down if you prefer a more fitted look. It's always a good idea to compare the size chart measurements to your own body measurements to ensure the best fit. With the Gildan Heavy Blend Hoodie's wide range of sizes, you're sure to find one that will keep you comfortable and stylish all season long.
Material Composition
When it comes to material composition, there are a variety of features to consider. One important aspect is durability, which is determined by the strength and resilience of the materials. Another aspect is the weight of the material, as heavier options may be more durable but also less convenient to handle.
Additionally, the composition of the material can impact its environmental impact, with eco-friendly options becoming increasingly popular. Of course, the appearance and aesthetics of the material are also important, as they will influence the overall look and feel of the finished product. Overall, choosing the right material composition depends on the specific needs and preferences of the project at hand.
Whether it's strength, weight, eco-friendliness, or aesthetics that take priority, there are a variety of options available to fit any project requirements.
Warmth and Comfort
When it comes to feeling cozy and comfortable at home, having the right features in your living space can make all the difference. One key element is warmth, which can be achieved in a variety of ways. A fireplace adds both warmth and ambiance to a room, while a well-insulated home can help keep the heat in during the colder months.
Soft, plush fabrics like a fluffy rug or a cozy throw blanket can also add to the feeling of comfort in a space. Lighting is another important factor, as the right level and type of light can make a room feel warm and inviting. Whether it's through natural light, candles, or warm-colored bulbs, the right lighting can create a cozy atmosphere that makes you feel right at home.
By incorporating these features into your living space, you'll be able to create the warm and comfortable environment that you crave.
Durable Construction
When you invest your hard-earned money in a product, you want it to last. That's why durable construction is such a critical factor to consider when making a purchase. High-quality materials and expert craftsmanship can make all the difference in terms of how long a product will last.
Look for features like reinforced stitching, sturdy hardware, and rugged fabrics that can stand up to wear and tear. A durable construction doesn't just give you peace of mind that your investment will last, but it also saves you time and money in the long run. You won't have to worry about constant repairs or replacements, and you can rely on your product to perform well every time you use it.
Always keep durability in mind when choosing a product so that you can enjoy it for years to come.
Benefits
If you're in the market for a comfortable and versatile hoodie, the Gildan Heavy Blend Hoodie is a great option. It comes in a range of sizes to suit all body types, with a size chart that can help you select the best fit for you. One of the most significant benefits of this hoodie is its thick and soft fabric, which feels great against the skin and offers excellent warmth and insulation.
The design is classic and timeless, with a roomy kangaroo pocket to stash your essentials. Plus, the matching drawstrings and ribbed cuffs, and waistband add a stylish touch. Whether you're wearing it for lounging at home, running errands, or heading out for a hike, the Gildan Heavy Blend Hoodie is sure to become a fast favorite in your wardrobe.
So, don't hesitate to grab one for yourself and enjoy the comfort and style it offers!
Versatile Style
Versatile style is a highly beneficial aspect of fashion that allows people to mix and match their garments in multiple ways. It involves creating a wardrobe that can be dressed up or down and enables individuals to adapt their outfits to any situation. The beauty of versatile clothing is that it eliminates the need for separate wardrobes for work, social events, or casual outings.
This means that you can save money while looking stylish and confident in any situation. Apart from saving money and wardrobe space, the versatile style also saves time. You don't have to spend hours picking out clothes or worrying about what you'll wear.
With a well-curated wardrobe, you can quickly put together a stylish outfit that's suitable for the occasion. Additionally, versatility allows you to get creative with your outfits without feeling boxed in by a particular style. Mixing and matching different pieces can bring out your unique sense of style, making a statement and showcasing your individuality.
In conclusion, versatility in fashion is an essential aspect that offers numerous benefits to individuals. It saves money, space, and time while providing a creative and fun way to express their personalities. By focusing on creating a versatile wardrobe, you can ensure that you always look and feel your best, no matter where you're going.
So, embrace versatility and create a wardrobe that suits your lifestyle and makes dressing up enjoyable and effortless.
Ideal for Screen Printing or Embroidery
Screen printing and embroidery are two popular methods of customizing apparel and accessories, and both can be efficiently accomplished with the help of the right fabric. When it comes to choosing the ideal fabric for screen printing or embroidery, cotton usually emerges as the top choice due to its durable and smooth surface that can hold intricate designs. Cotton is also soft and comfortable to wear, making it an excellent option for clothing and accessories that will be in contact with the skin.
Additionally, cotton can be easily dyed in a wide range of colors, allowing for endless possibilities when it comes to designing unique items. Opting for cotton fabric for screen printing or embroidery also ensures that the final product will look sharp and professional, making it an excellent choice for businesses, organizations, or individuals looking to create custom merchandise. Using the services of a reliable printing or embroidery company can help you achieve the best results and make your designs stand out.
Conclusion
So there you have it, folks! The Gildan Heavy Blend Hoodie size chart is the key to unlocking the perfect fit for your comfort and style needs. Whether you're looking to elevate your loungewear game or need a reliable staple for those colder months, Gildan's got you covered. With sizes ranging from small to 5XL, there's no excuse not to find your match.
And hey, with the added bonus of a cozy hood and kangaroo pocket, you'll not only look good but feel good too. So go ahead, embrace the hoodie life, and trust the Gildan Heavy Blend size chart to guide you on your way.
FAQs
What are the available sizes for Gildan Heavy Blend Hoodies?
Gildan Heavy Blend Hoodies come in sizes ranging from small to 5XL.
Is the Gildan Heavy Blend Hoodie true to size?
Yes, the Gildan Heavy Blend Hoodie tends to be true to size. However, it's recommended to refer to the size chart before purchasing.
How can I determine my size for Gildan Heavy Blend Hoodies?
You can determine your size for Gildan Heavy Blend Hoodies by referring to the size chart, which provides measurements for chest width, body length, and sleeve length.
Do Gildan Heavy Blend Hoodies shrink after washing?
Gildan Heavy Blend Hoodies are pre-shrunk to minimize shrinking, but they may still shrink slightly after the first wash depending on the care instructions followed. It's recommended to follow the care instructions to avoid excessive shrinkage.